Vallejo Pista Sa Nayon
More Info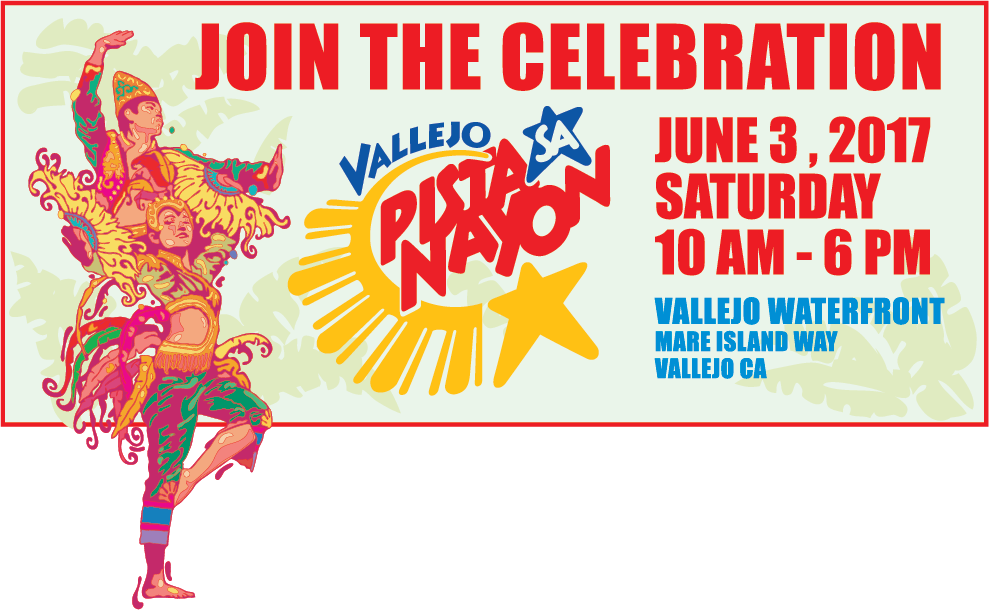 VALLEJO PISTA SA NAYON
JOIN THE CELEBRATION!
Saturday, June 3rd | 10:00am - 6:00pm
The Vallejo Waterfront
Mare Island Way - Vallejo, California
Come and experience the celebration of Philippine Independence Day during the first week of June in Vallejo, California.
The festivities kick-off with a great parade on Marin Street and Capitol Street in Vallejo, then continues with non-stop entertainment on two stages and ends at at the renowned Vallejo Waterfront. This annual event is one of Vallejo's largest FREE outdoor festivals that draws crowds wanting to sample Philippine cuisine, soak up Filipino hospitality, and enjoy entertainment that crosses all ages, cultures and ethnicities. Come and experience the Philippine Culture first hand. Bring the whole family.
Pista sa Nayon is the highlight of the City of Vallejo's Philippine Cultural Month celebrated throughout the month of June. Filipinos around the world celebrate Philippine Independence Day, when Filipinos first proclaimed their independence from Spain after over 300 years of colonial rule.

GMA PINOY TV & GMA LIFE TV PRESENT:
DINGDONG DANTES & MARIAN RIVERA
AND
KUH LEDESMA
Featuring Performances by:
Mahal - Raffy Lata - Dakila - Parangal Dance Company - School of Chinese Martial Arts Vallejo - Jaron D - Kajukenbo Self Defense Institute
Special Appearance by:
Veronica De La Cruz
Anchor KPIX 5 Newscast & Bay Area NightBeat on KBCW 44 Cable 12
And Hosted By:
George Da Plumma
Host of Vallejo's Pacific Vibes on Ozcat Radio
Plus don't miss the 8th Annual Vallejo Goodwill Filipino Martial Arts Tournament happening at Vallejo Pista Sa Nayon!
FREE ADMISSION
Bring These Top Artists To Your City
Demand it! ®
and Never Miss a Show Again!
Powered by Eventful, a CBS Local Digital Media Business